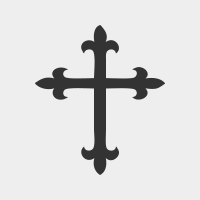 May 15, 2022
John 13:31-35
Many scholars view this passage as Jesus' "testament." A testament was the important words that a parent or teacher delivered to children or disciples just before death. And it is certainly one of the clearest commands of Jesus in the Gospel of John. John doesn't spend much time on the ethical teachings of Jesus, so it seems clear he wants us to understand this as the most important commandment of Jesus.
But let's not get too far ahead of ourselves. First, we need to remember the context with every passage of Scripture. The context is the Last Supper. Jesus washes the feet of his disciples when they gather. He predicts the betrayal of Judas, and right after this text, the denial of Peter. That context becomes important to understanding this passage.
Judas leaves, and Jesus says, "The time has come for the Son of Man to enter his glory." With the betrayer on his way to get the Temple guards, the cross is at hand. And Jesus calls the cross his glory. Jesus' glory is revealed in his miracles, but more than anything, it is the cross that glorifies him.
This fulfills the prophetic words of Isaiah, who said of the Messiah in chapter 52, that "God's servant is highly exalted," and in the next breath, "He is beaten, bloodied, and disfigured."
This is certainly not our idea of glory! We live in a pain-killer society that avoids suffering, as much as possible. But suffering can be redemptive. Glory can come through suffering. And the greatest glory can come through sacrifice.
I thought here, rather appropriately, of the movie "Glory," which tells the story of the Massachusetts 54th Regiment, the first regiment of black soldiers in the Civil War. The climax of the movie, and their story, is that they took a key position in the Union assault on Ft. Wagner in 1863. Almost half the regiment was killed, wounded, captured, or missing in action after the battle. But their sacrifice immortalized the regiment and opened the door for other black regiments to be seen as equally capable of fighting for the cause. They would not be remembered without sacrifice. Some Union generals just wanted to use them for "reserve duty." If that had happened, they wouldn't be remembered. And likely no other black regiments would have been formed.
Jesus enters his glory through the suffering and sacrifice of the cross. And God receives glory through his obedience, "even to death, even death on a cross."
Love and glory are inseparable in our understanding of God. In Exodus chapters 33 and 34, Moses wants to see God's glory. God agrees to the request, and his glory
passes in front of Moses. As he does, God declares, "I am the Lord, rich in covenant love and faithfulness."
If God had never come down to us in the person of Jesus, we might revere him for his power and his holiness. But would we truly know his love? Would we truly love him if it were not for the sacrifice of Jesus?
"And God will bring him into glory soon." There is greater glory beyond the cross. The resurrection, ascension, and ultimately the second coming are beyond the cross. The crown of thorns will become the victor's crown.
"Dear children, how brief are the moments I have with you." No matter how much time we have with those we love, it's never quite enough. We always wish for a little more at the end.
"So I leave you with a new command: Love one another." The command to love was not new. It went back at least as far as Leviticus 19. But it is the qualifier that is new, "as I have loved you." So, how did Jesus love?
First, he loved selflessly and sacrificially. He acted without regard for his own benefit but always for the benefit of others. Ultimately, this led to an act of self-sacrifice. There are no limits to his love for us. So we are to love each other without limits. No small task.
And Jesus loved his disciples with full understanding of their faults and failures. Jesus washed the feet of Judas, who betrayed him, and Peter, who denied him. Contrary to the common expression, love is not blind. Love is fully aware. We love others when we see their faults and failures and love them in spite of them.
And to go along with that, love means we must forgive. Love can't endure without the willingness to forgive. And no community of love can last without forgiveness.
Well, what about our neighbors? Didn't Jesus tell us to love them, too? And even our enemies. Yes, but if we don't love our family in faith, how likely are we to love those outside our family? Or our enemies? Paradoxically though, loving our family in faith might actually be harder in some ways than loving our enemies. We usually don't see our enemies every day. And we certainly aren't disappointed when our enemies act like Judas and betray us, right? But sometimes our fellow believers will take the part of Judas. And we must still love them and forgive them. Because Jesus is our example.
I think it's very important any time we talk about love to remember just what the New Testament means when it speaks of love. Because we live in a culture that greatly emphasizes love as a feeling, especially a romantic feeling. The New Testament is largely silent on the subject of romantic love. Really only the Song of Solomon in the Old Testament devotes major time to the theme of romantic love.
The love described here is AGAPE, a Greek word meaning a self-giving love, the love that denies self to serve others. It's not a feeling so much as a choice, a decision to act for the good of others even when it's costly.
And AGAPE is defined by Jesus. He shows us what the word means. It's not the other way around. And some people want to do that. They want to imagine Jesus according to their understanding of love. We understand love by looking at Jesus.
And contrary to what some might think, AGAPE is not "being nice." Love is not niceness. Was Jesus nice to the Pharisees and chief priests? Read Matthew 23, and you'll find out he wasn't. Was Jesus nice to the merchants and money-changers fleecing pilgrims in the Temple courts? Decidedly not. AGAPE can be a "tough love," at times, but always with the goal of seeking the good of others. Jesus was hard on the Pharisees because he loved them and wanted them to renounce their hypocrisy.
Love is not wishy-washy. Some people like to pick and choose the parts of Jesus they like. "Judge not, lest you be judged," and, "Then I won't condemn you either," are among the favorite parts. But it's no act of AGAPE to tell someone not to worry about their sins. We need to keep the whole picture of Jesus in mind when we try to understand AGAPE. There are parts of Jesus that will make us uncomfortable. They are AGAPE, too.
"The world will know you are my followers by your AGAPE for each other." Does the world know? I wonder sometimes. Does the world see the Church as a community of AGAPE? Or do they see a fractured and contentious bunch of people more interested in their own kingdoms than the Kingdom of God? Or do they see a political power bloc, a group of people interested in pushing an agenda by worldly means?
I'm afraid we have a lot of work to do. Myself included.